The Dublin Plumber, Emergency Plumbing Services
The Dublin Plumber is Kevin Farrelly. With a base in Swords, North County Dublin, Kevin's team of experienced plumbers provide general plumbing and emergency plumbing services not only to Swords but all of North Dublin.
Our policy is to arrive at your home in Swords, or anywhere in North Dublin, in less than one hour for all emergency calls we receive. Our current average response time is between 20-40 minutes.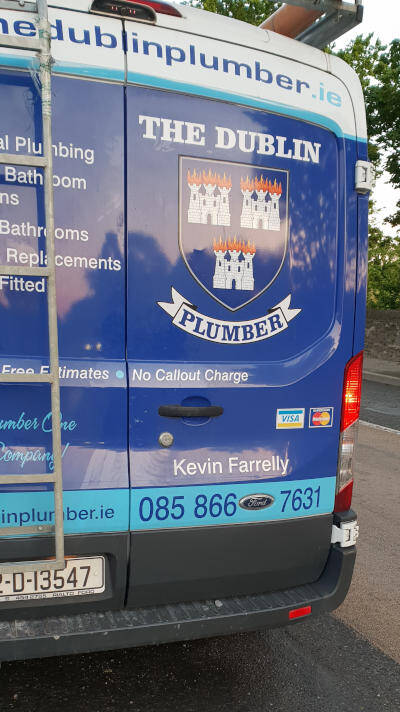 Emergency Plumbing Service
Luckily, The Dublin Plumber is available 24 hours a day and seven days a week. It is our aim to provide our clients with complete peace of mind, even at times of emergency. Call 085 866 7361
We have put together a number of frequently asked questions and answers for you. If you have any other questions please don't hesitate to call.
How to Handle a Plumbing Emergency
Gas Leak
Call an emergency plumber as soon as possible. The first indication that you have a problem with your gas will be the odour that it gives off. Consequently, there is always the terrifying risk that the gas pipe that is leaking could explode. If this is the case, make it your duty to call an emergency plumber right away. Furthermore, always turn off the main gas valve in your home. Most importantly, this will ensure you avoid any further leakage that could result in an explosion.
Heating Systems Breakdown
Gas and oil boilers break down and this can become an emergency, especially when temperatures can reach single and sometimes minus digits in Winter. If you have children or elderly people living in the home, an emergency plumber must be called immediately. You can run a couple of routine checks on your heating system, such as double checking the thermostat to ensure it has not been turned down accidentally. If you have an oil tank at home, make sure to check if you have any oil remaining. After you have run the regular routine checks and are unsure about what the issue is, it's time to call an emergency plumber.

Burst Water Pipe
For a burst water pipe, turn off the water supply to the home at the main valve and then turn off the power in the home. After you have done this, it is time to call an emergency plumber! But, if you are unsure of the location of the main valve, call a plumber straight away as a plumber can guide you and help you locate the valve.
For small leaks, call a plumber and then do your best to locate the leak and stop it. The use of duct tape, towels and buckets will assist you with any small leaks.
Contact The Dublin Plumber